In the past, when you mentioned technology to a homeowner, they instantly thought about how much it would probably cost. While there was some truth to this statement, tech for the home has drastically decreased in price and has made managing your home a lot easier.
With hundreds of home gadgets hitting the market every year, only a few are worthy of considering.
1. Anova Culinary Precision Cooker Wi-Fi
If you are interested in sous to vide cooking (it involves sealing the food in plastic then immersing it in a hot bath to cook it to perfection), then you need an immersion calculator to get you started. Priced at $179 on Amazon, the Anova Culinary Precision Cooker Wi-Fi uses Wi-Fi connectivity so that you can use you Smartphone or able to control it from anywhere, even when you are not at home.
It is equipped with a big dial that lets you set the desired temperature to within a tenth of a degree, and its display shows both the set and current temperature to within 1/ 10 of a degree. A Smartphone app keeps you notified of the cooking process every step of the way. It is the ultimate way to make sous vide cooking as simple as possible. Definitely meant to make life easier and simpler for everyone in the home
2. Amazon Echo and Echo Dot
This $179.99 Bluetooth speaker is powered by Alexa, Amazon's voice assistance. It works with a host of smart home devices as well as IFTTT (IF This Then That) to control other gadgets by the sound of your voice.
3. LG Smart Security Wireless Camera LHC5200WI (With ADT Canopy)
Priced at $199.99, the indoor Wi-Fi camera uses ADTs Canopy service to offer 24/7 monitoring. It is the ideal camera for renter's, homeowners and apartment dwellers looking to benefits from professional monitoring without having to pay for a professional installation.
4. Nest Learning Thermostat (3rd Generation)
For smart home heating and cooling, the $249 Nest Learning Thermostat features inbuilt Wi-Fi so that you can remotely control your home's temperature using your PC, phone or tablet. This latest version comes with a bigger display and more sensors than its predecessors, in addition to a furnace monitor and geofencing support.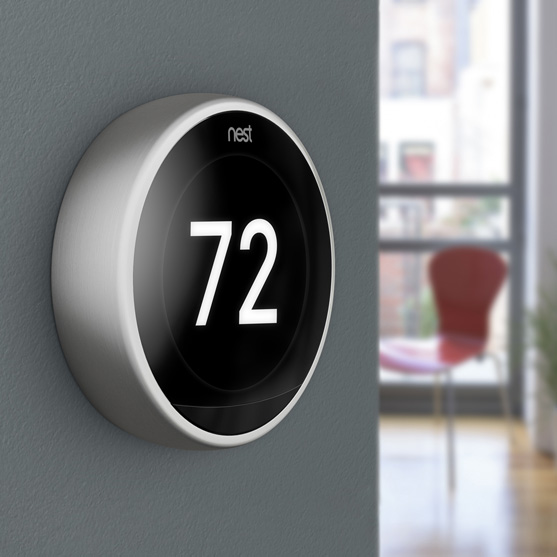 5. Perfect Bake Pro
Eliminate the risk and guesswork when baking by investing in the $82 Perfect Bake Pro baking scale. The gadget is connected to an app to help newbies get everything right when it comes to kitchen chemistry. The scale automatically measures every ingredient as you add it into the mixing bowl. All you need is the ability to tell the salt from the sugar.
6. Sleep Number it Bed
Improve the quality of your sleep using this $799.99 bed whose embedded sensors will track your breathing, movement and heart rate it also has a SleepIQ app that suggests bed times and bed firmness. The bed also connects with Nest Thermostats, Fitbits, and other smart home devices and health apps to customise your sleeping environment.
7. KWIKSET Smart Code 916 Touch Screen Electronic Deadbolt
The $215 Smart Code 916's small size makes it a lot less conspicuous than other locks, but surprisingly; it lets you use your old house keys whenever you want. Its Secure Screen feature ensures that no burglar will guess your password by fingerprint smudges alone. While it lacks an app, you can connect it to a number of smart hubs via ZigBee or Z-wave. Overall, this is a great all round clock that will ease you into the world of smart locks, "unlocking" its features while feeling secure.
8. Roost Smart Battery smoke detector
Already have a smoke/CO2 protector? Well, you can enhance it using this $35 device that plugs into any existing smoke detector and turns it into a smart device. Now you can rely on your Smartphone alarm to remind you and other n the event you home is in danger of catching fire.
9. iHome ISP5 SmartPlug
Get this iHome ISP5 Smart Plug for about $40 to make virtually any home device "smart." You can use your Smartphone to control power getting into the ISP5. You can use the iHome app to create a schedule for turning the plug on and off. It can also be linked to Wink, Alexa and other smart devices.
10. Amazon Echo
The Amazon Echo is a Bluetooth speaker, but it also equipped with many voices controlled and activated features that let you control a number of home gadgets and connect to other smart home hubs. The $179.99 Amazon Echo also reads audio books, checks the weather and lets you buy things online using your voice alone. It also sounds great as a speaker in its own right.
This post is contributed by Stephanie Lynch